By XU Nuo | AOPA-China | Updated: 2022-07-29
In July 2022, The IAOPA published a summary of its activities at the International Civil Aviation Organization (ICAO). The association's representative, Mr. Frank Hofmann, attended a number of meetings at the Air Navigation Commission (ANC), the technical commission of ICAO in Montreal and ensures that IAOPA's and General Aviation's voice is heard on a number of fronts. IAOPA has been very active on effort to establish an ICAO medical standard for GA pilots, which was put forward in a resolution during IAOPA's 2018 World Assembly in New Zealand.

IAOPA is one of 9 Industry Associations invited to be observers to the ANC, and is present to speak on General Aviation matters.
The Panel, Working Group and Discussion Group topics discussed during the meetings include Advanced Air Mobility (AAM), Private Pilot License/Medical Standard, Airworthiness, Communications, Air Traffic Management (ATM) / Unmanned Air Traffic Management (UTM), as well as Detect and Avoid (DAA).
An overview of each topic is provided below.
Advanced Air Mobility (AAM)
Advanced Air Mobility (AAM) is an air transportation system that moves people and cargo between places previously not served or underserved by aviation – local, regional, intraregional, urban – using revolutionary new aircraft that are only just now becoming possible.
The Flight Operations (FLTOPS) panel of the ANC discussed suggestions and proposals for establishing AAM standards to ensure the safe integration of new electric technology aircraft. These operations are expected to have an impact on all operations including GA and IAOPA continues to monitor and provide input on this matter. IAOPA participates in the planning meetings through its membership in the Unmanned Aircraft Systems Advisory Group, UAS-AG.
Private Pilot License/Medical Standard
IAOPA's proposal to establish an ICAO medical standard for GA pilots has progressed through the FLTOPS panel. The proposal is currently being considered by the Pilot Training and Licensing Panel, PTLP. Once the medical questions from the Medical Provisional Study Group, MPSG, have been addressed, the PTLP Panel meeting is expected to approve the proposal. Jim Coon, IAOPA Secretary General, is a formal member of the PTLP and a Pilot Sub-Team Leader for this effort. Frank Hofmann is an advisor to Jim and has provided guidance during this process. ICAO is expected to approve the PTLP proposal, and the new PPL-Restricted license would become Applicable in Q4 2026.
Medical Provisions Study Group (MPSG)
The MPSG is suggesting to develop a mental health standard for aviation personnel. Whether such a standard would be applicable to GA licence holders is yet to be determined. Definitions of mental health standards are in the process of being agreed upon. Frank Hofmann has participated in the group's meeting from the outset.
Airworthiness
Future work for the Panel will include the definition of 'acceptable technical data' for small aircraft, which may have a positive impact on general aviation. Frank also attends the Airworthiness Panel meetings and Working Groups.
Communications
There will be a growing need for general aviation to update its communication and navigation equipment in order to take advantage of the flexibility of space-based navigation and airspace structure. This may involve avionics updates for general aviation. These matters are currently under discussion by the Air Navigation Commission, which Frank attends regularly. He has expressed the need for downward compatibility in the system.
Air Traffic Management (ATM) / Unmanned Air Traffic Management (UTM)
The latest advancements in Unmanned Air Traffic Management standards include the nearly completed Command and Control (C2) link Standards for Unmanned Aircraft (UAS) and Detect And Avoid (DAA) Standards. The latter are expected to be submitted to the FLTOPS Panel for approval in October. C2 link, Status of Remote Pilot Licence and Air Traffic Management Standards will be presented in the Spring session of the ANC and are aimed for approval at the 2025 ICAO Assembly.
Other issues including airworthiness of the control stations and Human Factors in integration of UAS with piloted aircraft are to be resolved through discussions which will include all components of the Panel membership and the Secretariat Officers. As of date, no live trials have taken place yet. Standards for smaller UAS for international IFR operations are also to be developed.
The impact of such integration on general aviation is expected to be negative due to changes in ATM involving equipment costs, procedure modification and training.
Detect and Avoid (DAA)
10 years ago, IAOPA joined two ICAO Working Groups (WGs) involving drones as a Panel member, now the move is considered to be pivotal for general aviation. IAOPA pushed hard from the start to insist that the ability and need for detecting and avoiding other aircraft should be the sole responsibility of the drone operator since that new industry's claim and agreement was that their operations would integrate into the then existing airspace management structure. But now, various schemes are proposed to circumvent the need for drone operators to satisfy that requirement.
IAOPA is constantly monitoring the development of DAA requirements and standards. Frank is a member of the DAA and Airworthiness Working Groups.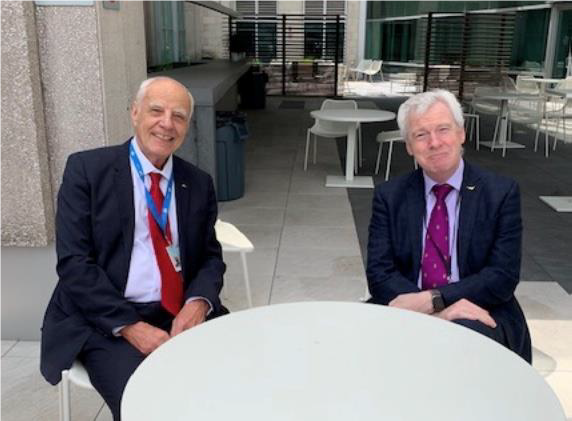 Frank Hofmann (L) and ANC President Padhraic Kelleher (R) on the ICAO patio at the end of the 220th session of the Air Navigation Commission, June 2022.