By Shangguan Qilin | AOPA-China | Updated: 2019-06-21
Out of the 7.4 billion people on Earth, 4000 people have climbed Mount Everest, 500 have been in Space while only around 700 pilots flew around the World in light aircraft and only 300 of them are alive today. I am not one of them yet. Lucky me, I know some of them. They have been inspirations to me ever since the first day we met.
Just stories are exciting enough to keep you alive. Such as go dash around the world to raise fund for ALS. Raise awareness for aviation culture for the young generation. Even to showcase your pure passion for flying.
I met Harry last May. Together with many earthrounders, we were soaked in the joy of flying fun, and amazing Zhenzhou Airshow.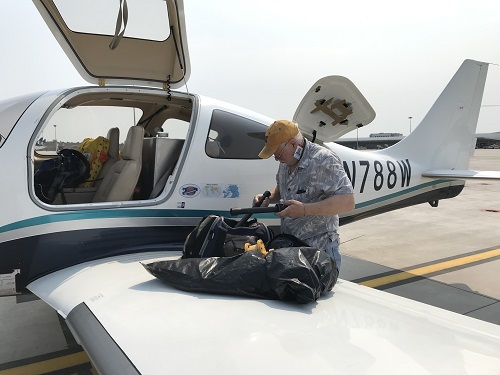 At that time, the 10th Earthrounder Reunion was hosted in Zhengzhou, China, organized by Chenwei, Blue legend, supported by AOPA -China. Then I realized that I enjoyed so much working in general aviation industry. People fly around the world for various reasons. Some for fun, some for charity. Some go westbound some go east. Though the reasons and routes are different, they share a common theme: the love for aviation and the love for the world.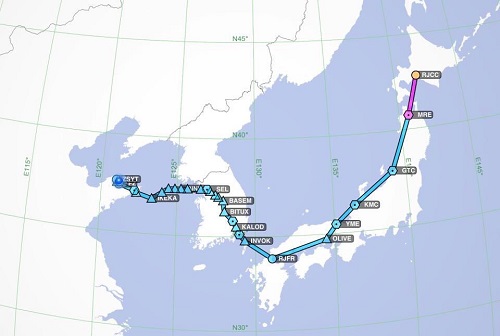 It is very hard to imagine what kind of challenges along the way of the tour, specially when you are in a light aircraft. Unexpected weather, aircraft mechanical difficulties, airspace conditions and many more. Getting the visas and clear the customs are only few of the canapés.
Of all the earthrounders, China is a very special place to be. So far, most of earthrounders are not from China. We have our Chinese earthrounders, proud of them. Dr. Zhang Bo just has finished his second around the world trip in DA 42, and he stopped in China for several legs. Dr. Zhang Bo is a Chinese. It will be more difficult if you are not a Chinese passport holder.
Still it counts a small percentage of the whole earthrounder population. China, with its tight airspace management situation, and underdevelopment of general aviation infrastructure, it will be good news to have some earthrounders land here and fly to their next destination from here.
Harry arrived at ZSYT, on 12th of June, in his Colo 300, N788W. Thanks to the technical team behind the curtain so we are able to make it work. Harry said his airplane looked so lonely on the ramp, I thought it was standing out. When more small aircraft are here, the lonely picture will change.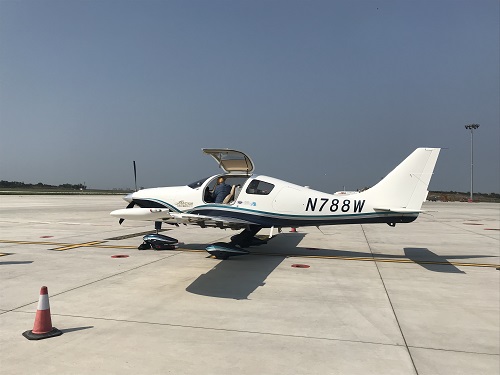 There were many airport staff stopping by to check out this little cute airplane. Compared to A320 and B737, it is small and adorable. It is still not commonplace to have a small airplane in the sky or on the ramp. I believe We will get there some day.
The charming part of general aviation is that you fly for fun. With the development of technology, the world is smaller and smaller. We have TV, documentary and AR to entertain ourselves. To go around the world, it is easier than ever. But seeing is believing, you have to be there to see the relics all over the world. You have to meet the people to complete your trip. Being a pilot has the privilege to fly there and check it out. Harry told me there would be more people in China flying their own planes just like their own cars now.
AOPA-China has been working on this grand mission since its foundation day. We encounter barriers and we tackle problems. There has been a lot of help along the way. I take this opportunity to express our thanks to them. Many hands make work light. Only by joining hands, could we achieve our goal and complete our grand mission.
Earthrounders, welcome to China. When you are here let me know, AOPA is the home.